Fully Booked premiered in 2017 as the only art book fair in the United Arab Emirates. The fair serves as a platform to consider the medium of the artist book as a "multi-site"— a tactile, portable, and accessible form. This form allows for the creative and democratic dissemination of information, while simultaneously enabling intimacy with content. The intention of the fair is to foster meaningful cultural exchanges between regional and international artist publishers, as well as the cultural practitioners and visitors present in Dubai during Art Week.
Gallery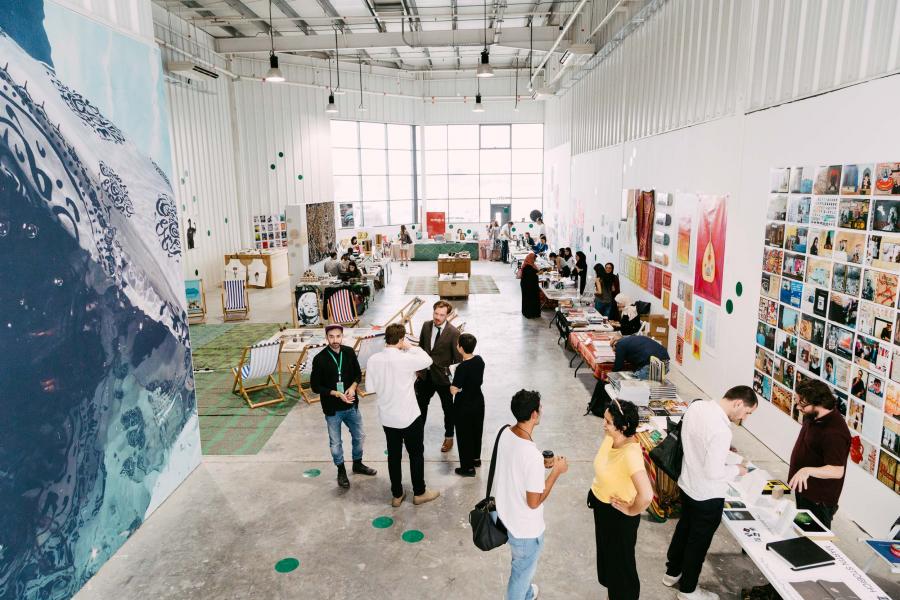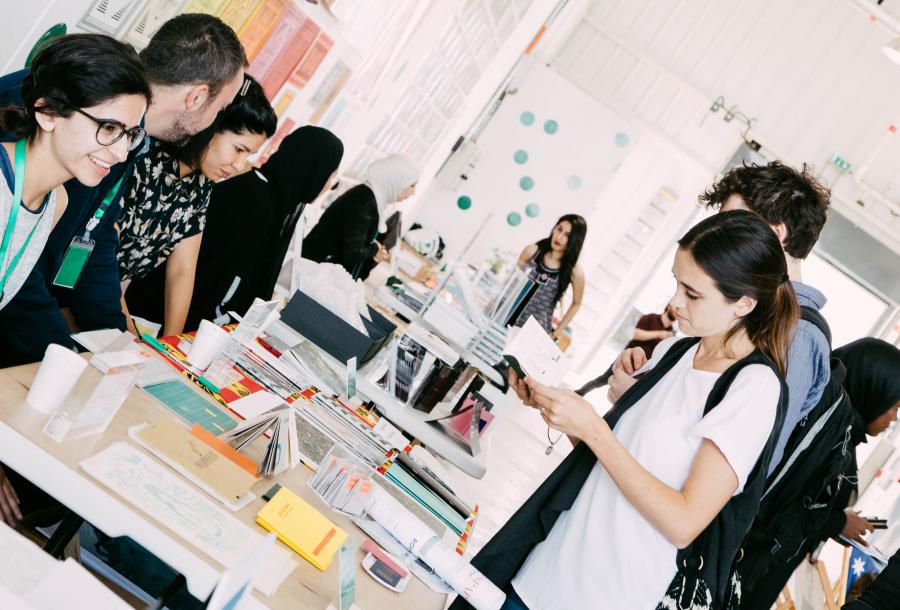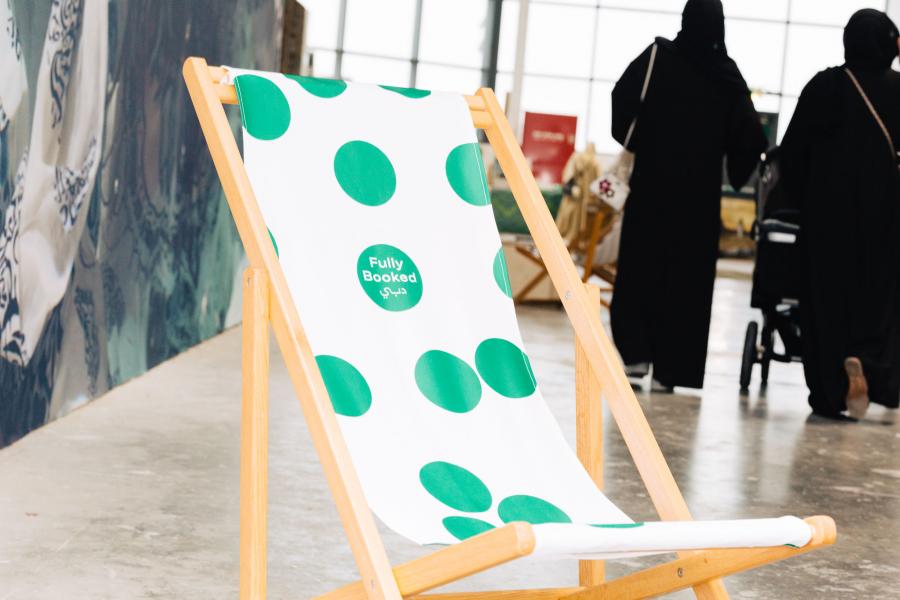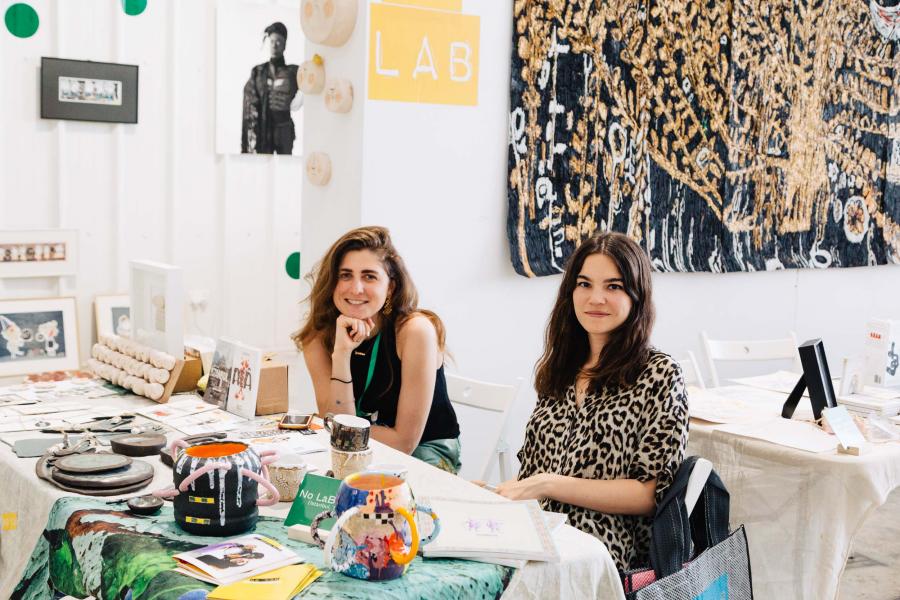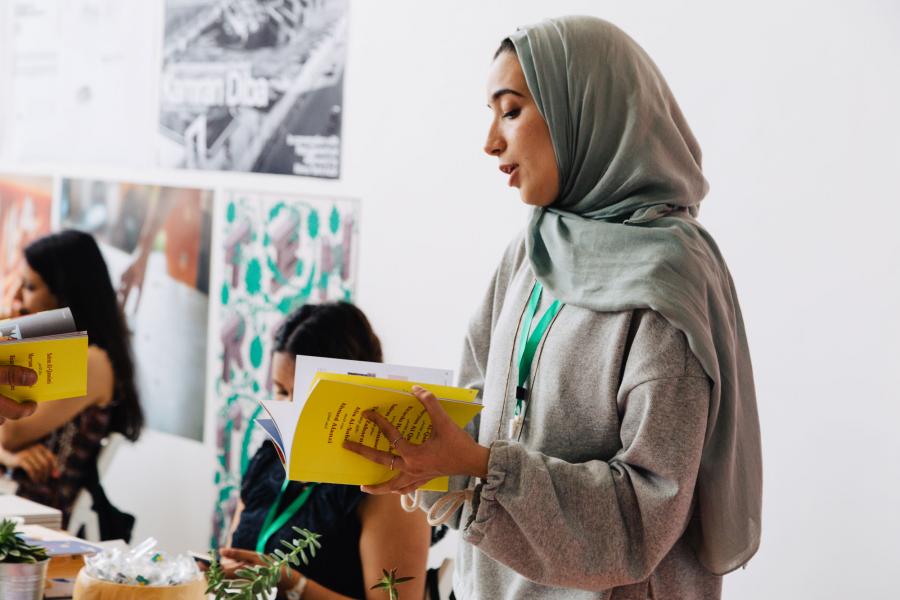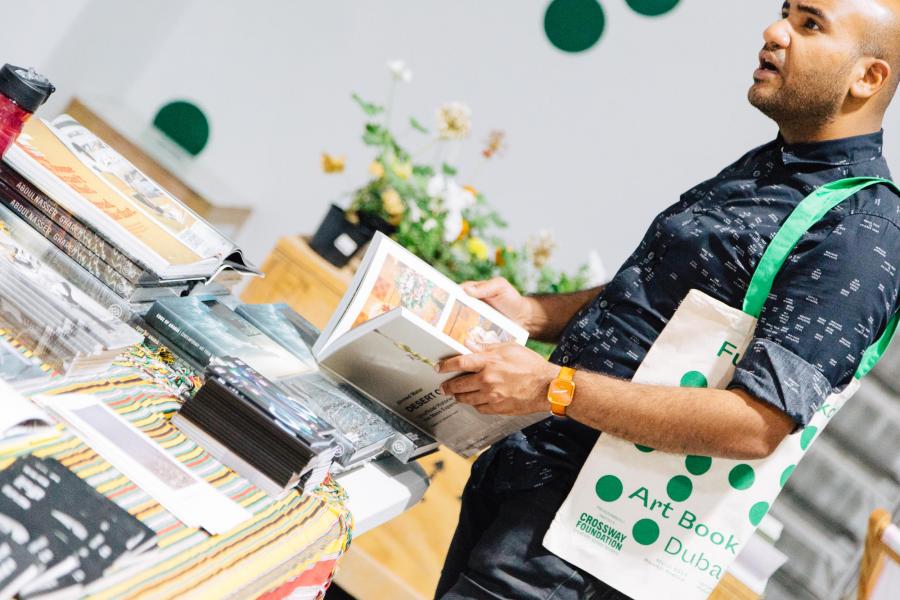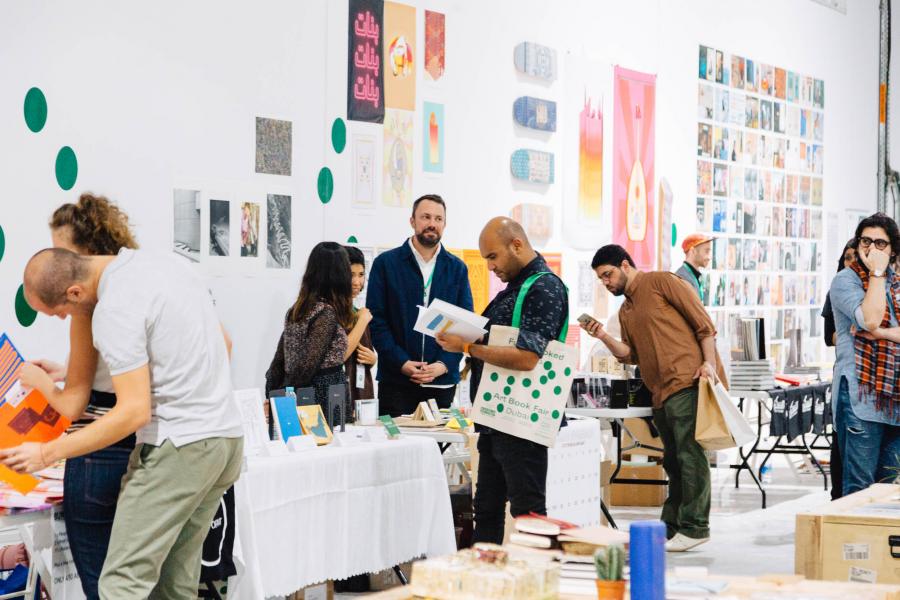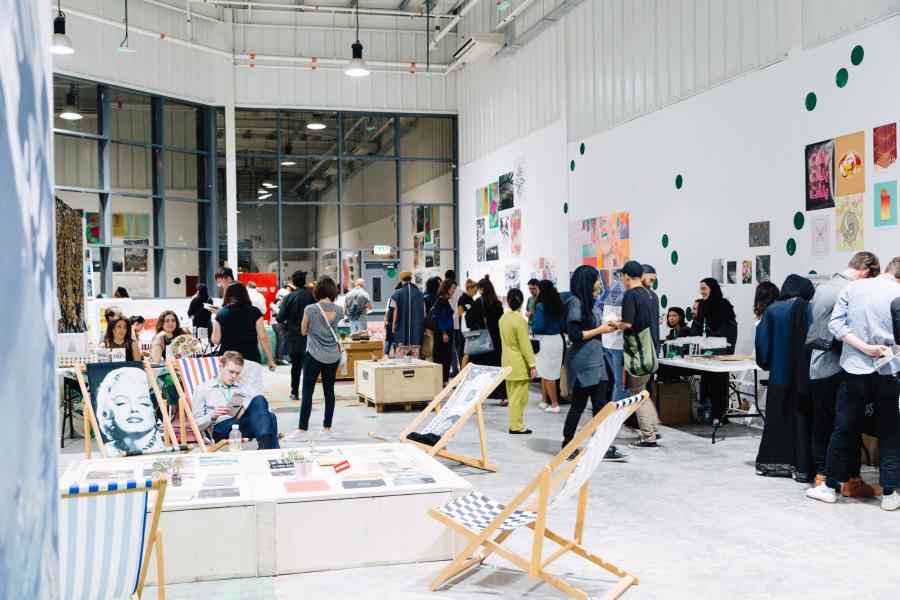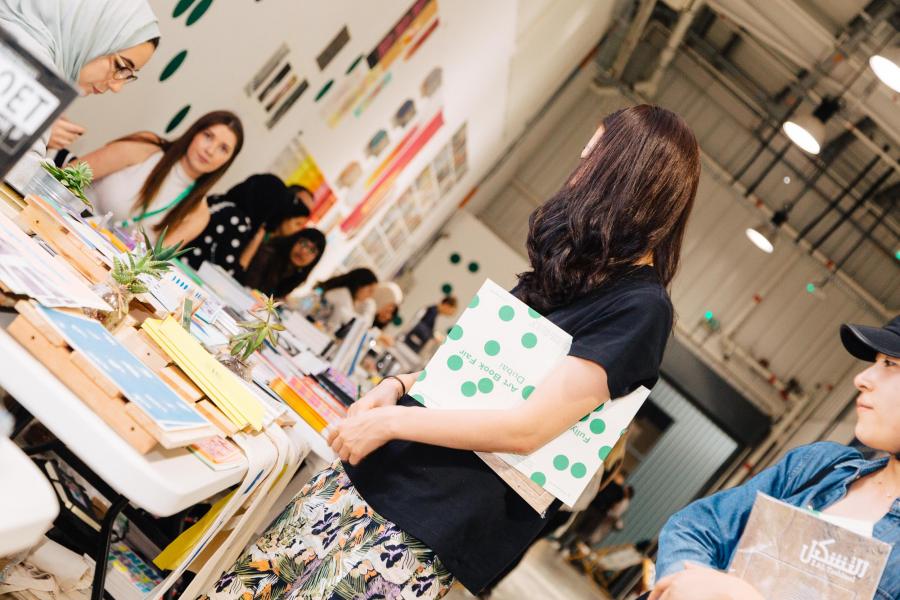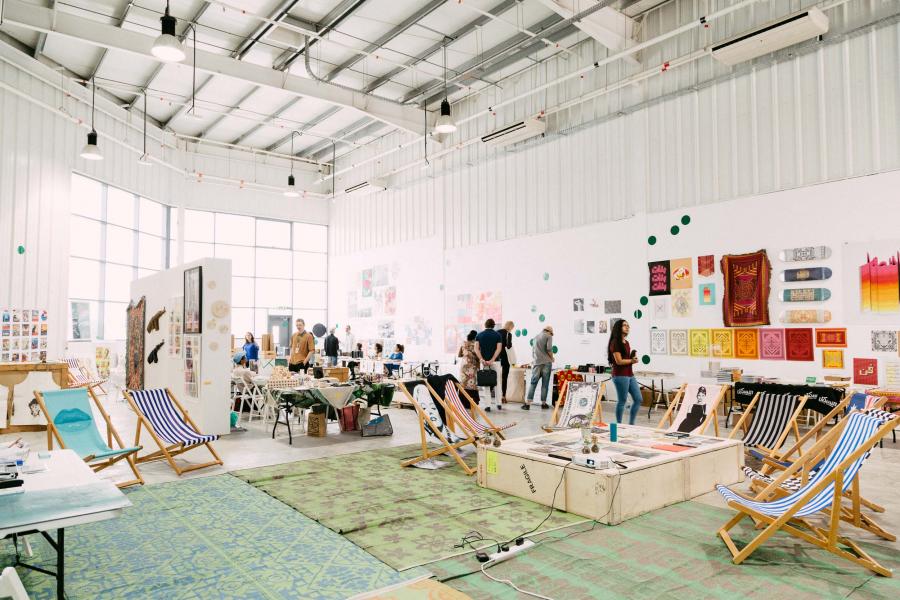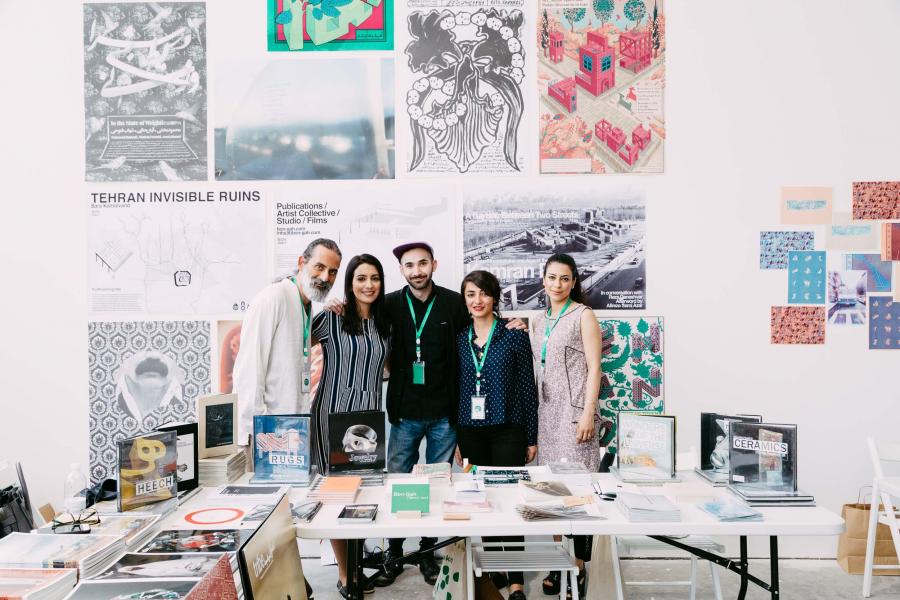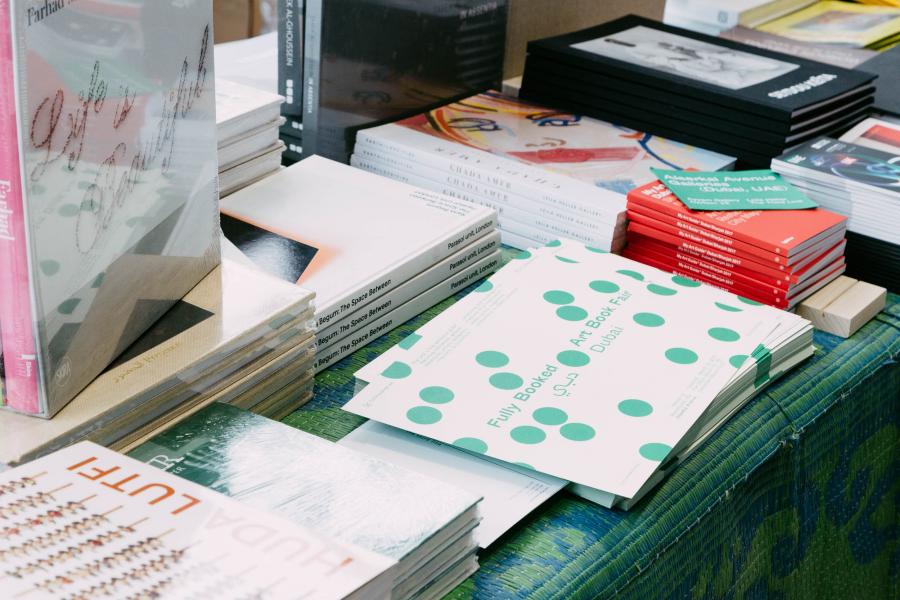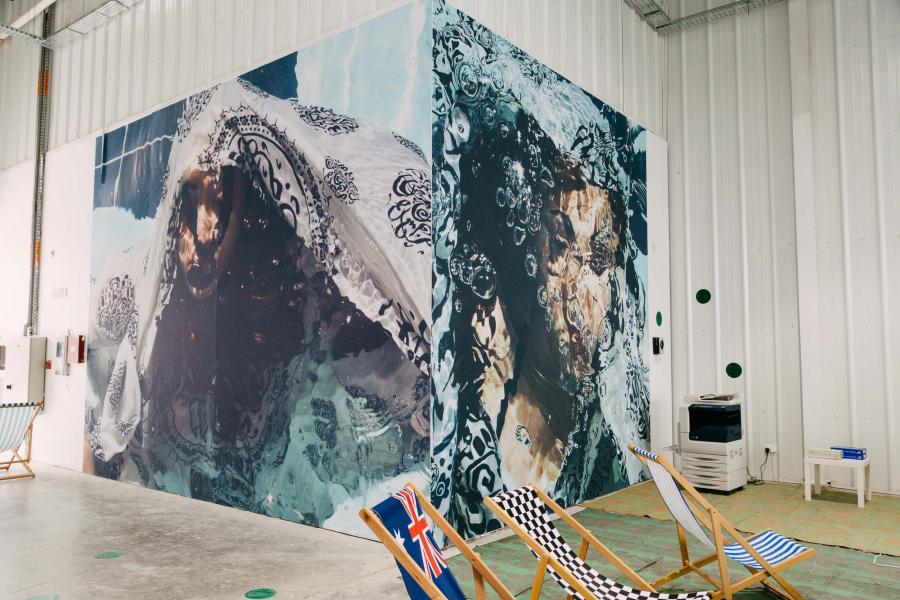 Schedule
March 13, 10:00–22:00
The warehouse space opened to the public as an art book fair and exhibition. The opening reception was from 18:00– 22:00 that evening. Following past years' foot traffic, there were 9,000 visitors to Alserkal Avenue on opening day in 2017.
March 14–18, 10:00–19:00
The fair continued through the weekend, open to the public.
March 19–27, 10:00–19:00
The space remained open solely as an art book exhibition with normal gallery hours (no vendors).
Location
Fully Booked is hosted in Warehouse i-82 at Alserkal Avenue, the region's foremost arts hub. Situated in Dubai's industrial quarter, the Avenue is a cluster of architect-designed warehouses.
Exhibitors
Ahmed Mater (KSA)
Al Braithwaite (UK)
Alice Taranto (New York City, USA)
ALL-IN (New York City, USA)
Arts & Sciences Projects (New York City, USA)
BEBA Editions (Cairo, Egypt)
Blind Arch (Tucson, USA)
Book of Palms (New York City, USA)
Brianna Burk (Fairfax, USA)
David Puig and Manar Moursi (Cairo, Egypt)
Draw Down (Gilford, USA)
Elfi Seidel (Amsterdam, Netherlands)
Eman AlHashemi (Dubai, UAE)
Endless Editions (New York City, USA)
Floki Gauvry (Buenos Aires, Argentina)
Geoffrey Owen Miller (New York City, USA)
Georgie Weedon (UK) -Gerhardt Rubio Swaneck, Adolfo Bimer (Valparaiso, Chile)
Gharem Studio (KSA)
Ghadah Alkandari (Kuwait)
GRRRR (Zurich, Switzerland)
Han Yun Liang (Taipei, Taiwan)
Hauser & Wirth Publishers (Zurich, Switzerland)
Henry Hemming (UK)
Hudam al-Sayed (Palestine)
Inverses (Vancouver, Canada)
Jaffat El Aqlam (Abu Dhabi, UAE)
Jiwon Song (New York City, USA)
Journal of Art Criticism (New York City, USA)
Kahlil Irving (Saint Louis, USA)
Khaled Jarrar (Palestine)
Khalid Albaih (Sudan)
Lal Bahcecioglu (Chicago, USA)
Lesley Wamsley (New York City, USA)
Locale (Abu Dhabi, UAE)
Lujiam Abulfaraj (UAE)
Metrodogs Publications (Highland USA)
Moaza Matar (Dubai, UAE)
Moniker Press (Vancouver, Canada)
Nasser Alzayani (UAE)
Natalia Nakazawa (New York City, USA)
Nouf Alhimiary (KSA)
Nugamshi (KSA)
Pacific (New York City, USA)
Papersafe (Saint Louis, USA)
Salar (Iran)
Same Paper (Shanghai, China)
Sara Ouhaddou (Morocco)
Selina Doroshenko (Baltimore, USA)
Shamma Buhazza (Abu Dhabi, UAE)
Shannon LaRue (Brooklyn, USA)
Siwar Kraytem (Beirut, Lebanon)
Sophie-Therese Trenka-Dalton (Berlin, Germany)
Stephen Stapleton (UK)
Steve Sabella (Berlin, Germany)
Tarek Rafaat (Cairo, Egypt)
Till Cremer (Berlin, Germany)
Tom Baggaley (Dubai, UAE)
Tse Tse Fly Middle East (Dubai, UAE)
Tulip Hazbar (UAE)
Tyma Hezam (Syria)
Will Ferguson (New York City, USA)
WORK/PLAY (Saint Louis, USA)
Zatara Press (Richmond, USA)
Programming
Fair programming, including artwork, film screenings, workshops and talks was developed in partnership with the UK-based Crossway Foundation and the British Council, with a special focus on UAE-UK artists (to coincide with the UK-UAE Year of Culture) who work on the intersection of art, travel and cultural exchange.
Special Artists' Projects
Nouf Alhimiary
"The Desire to Not Exist" Photo Tex Wall Mural.
Yusef Alahmad
A presentation of screenprint designs from "Pixelated Kingdom."
The Offscreen Collages
(Booth-Clibborn Editions)
The first ever display of all 68 panels made during an original artists' expedition through various countries in the Middle-East between 2002-2003 included in the book "Offscreen: Four Young Artists in the Middle East."
The Road Tapes
A sneak preview of Al Braithwaite's mesmerizing video work stitched together from over 100 hours of road footage from Eastern Europe, Turkey, Iran, Iraq, the UAE, Oman, Saudi Arabia, Jordan, Syria, Egypt, Israel and Palestine.
Monday, March 13 (Opening Day)
Sound and Vision Curated by sound-art and experimental music platform Tse Tse Fly Middle East

12:00 – 15:00
Featuring Tarew Abu Rahmeh, Sruti, Elias Rahbani, Pie Are Squared, Moslem Rasouli, Ziad Rahbani with Fairuz, Arabs with Synthesizers, Youmna Saba, Phaylaq, Rasasawt, Asifeh, Assa'd Khoury, Mostafa Onsy, Baligh Hamdi, Omrr, Spuntic, Rayan Haïdar, Teddy Lane, Rhéa Dally, Asifeh, ZuLI, Rachid Taha, Khaled and Faudel, Omar Khorshid, Ziad Rahbani, Sharif Sehnaoui, Ruba Shamshoum, Arash Akbari, Karkhana, Kamilya Jubran, Eyeless In Demascus, Malikah, Fadi Tabbal, Khaled Nweiran & Amjad Shahrour, Tamer Abu Ghazaleh, Ziad Rahbani.

Video Art Screening: "The Road Tapes," by Al Braithwaite
March 16
Zine-Making Workshop with Tulip Hazbar
12:00 - 15:00, Free of Charge
No. of Participants: 10 max, Age Limit: 16+
In this workshop, participants drew inspiration from their surrounding environment, Alserkal Avenue, and were asked to collaborate to create fictional scenarios and narratives. These explorations manifested in the form of a printed zine.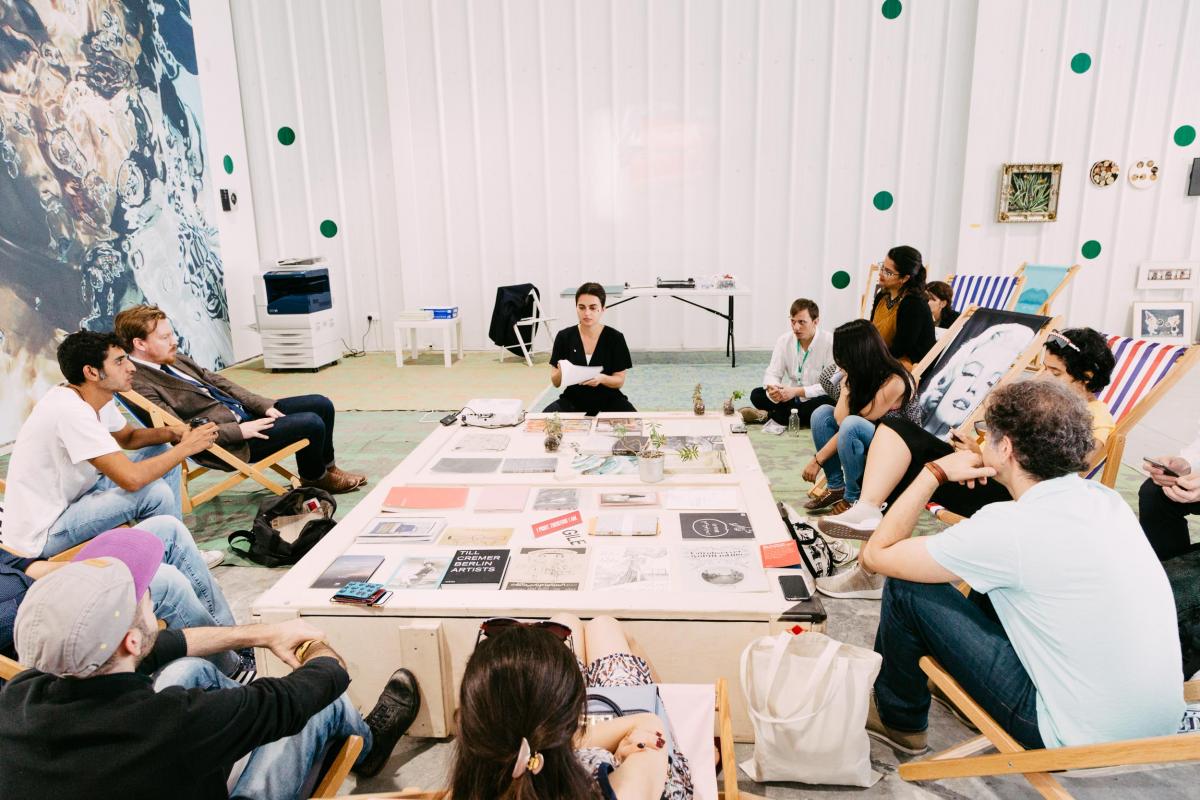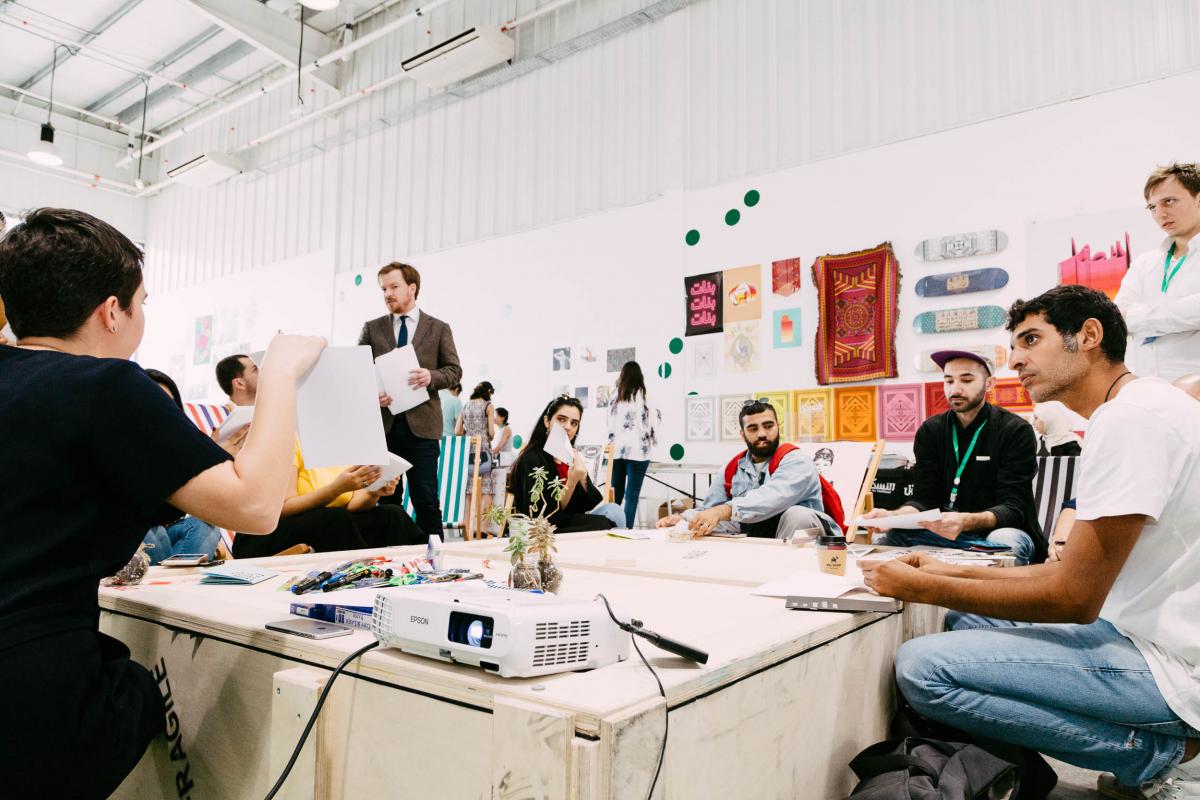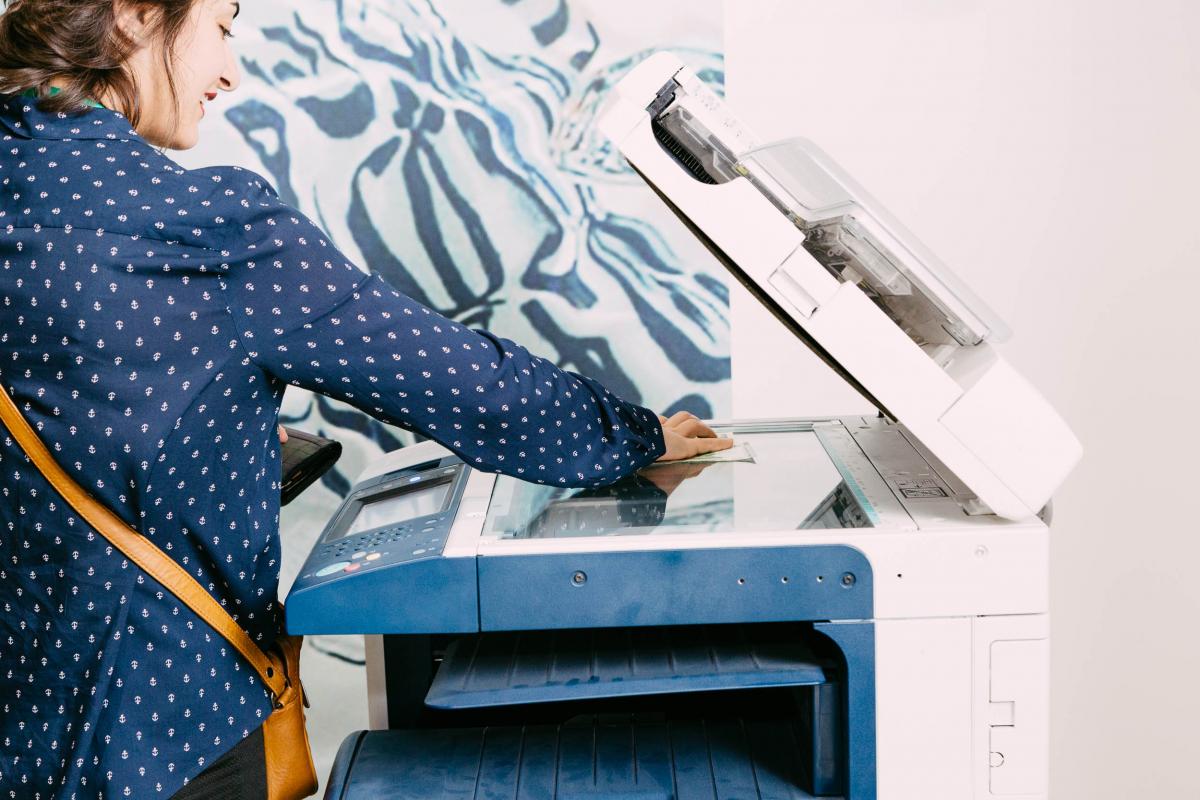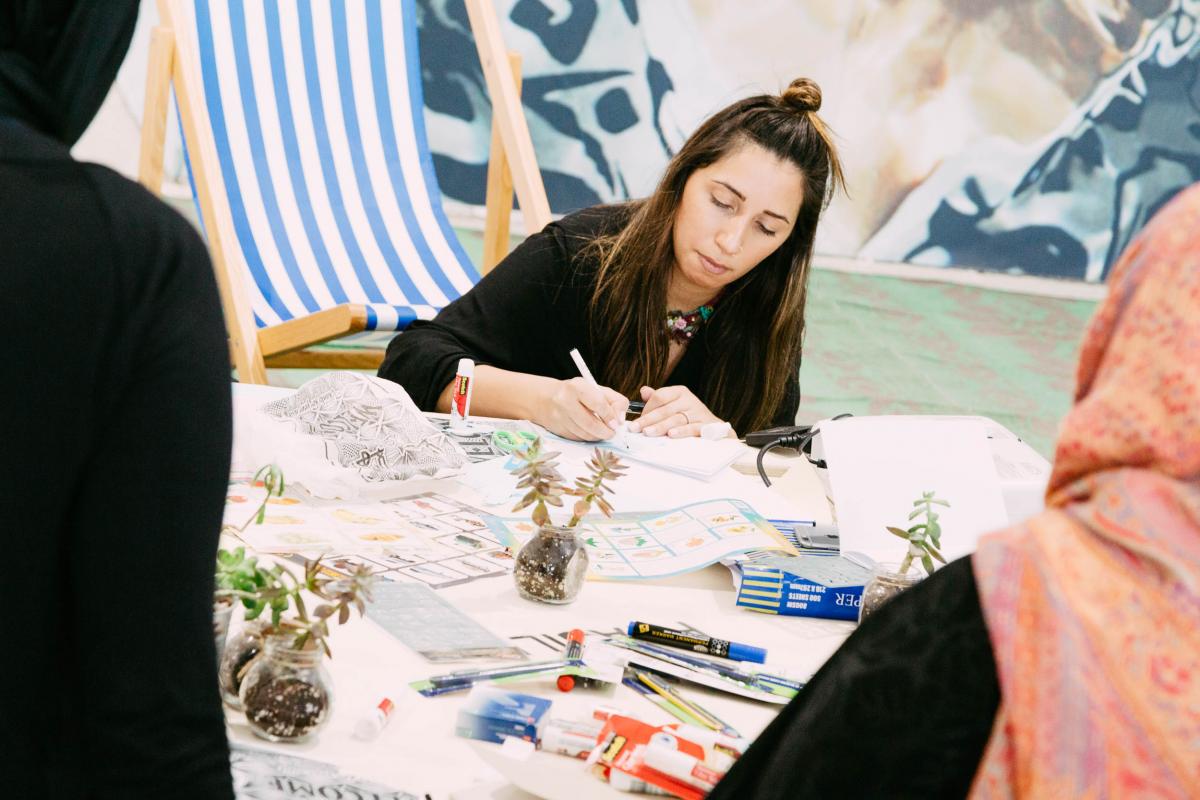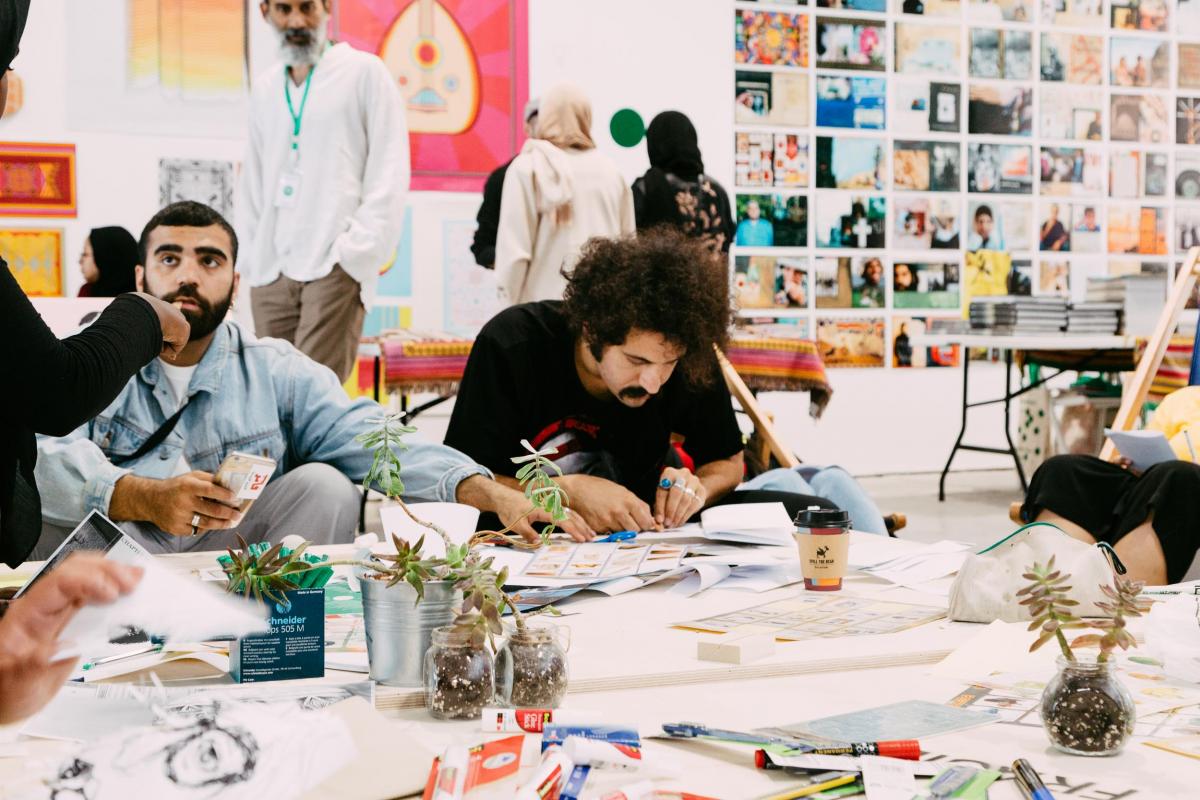 March 18
'Everyone Can Draw": Blind Drawing with Nasser Al Zayani
12:00 - 14:00, Free of Charge
No. of Participants: 14 max, All Ages
When Nasser embarks on any journey, he is always accompanied by his sketchbook. More than a companion, the pages of these sketchbooks hold a record of every place he visits. They serve as a tool of documentation as well as a process of crossing borders, bridging his senses with the world around him. One of the most direct forms of drawing found in his sketchbooks are his blind portraits.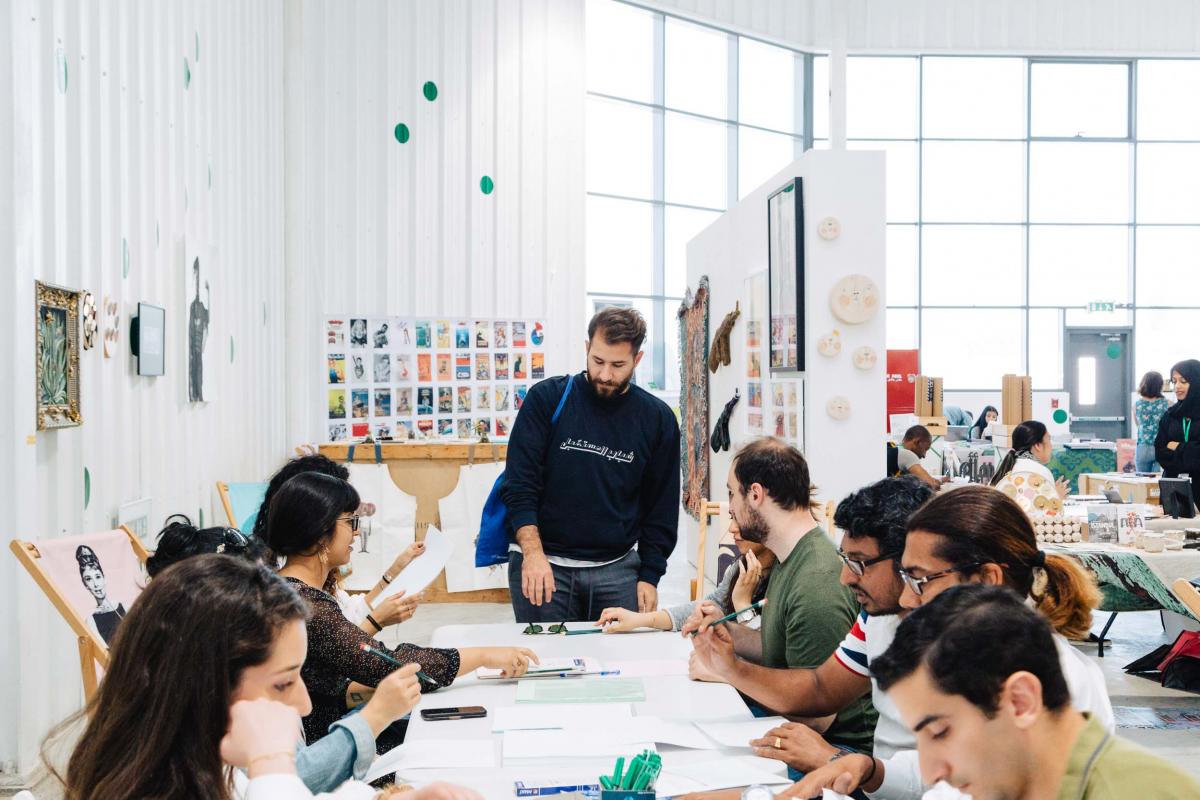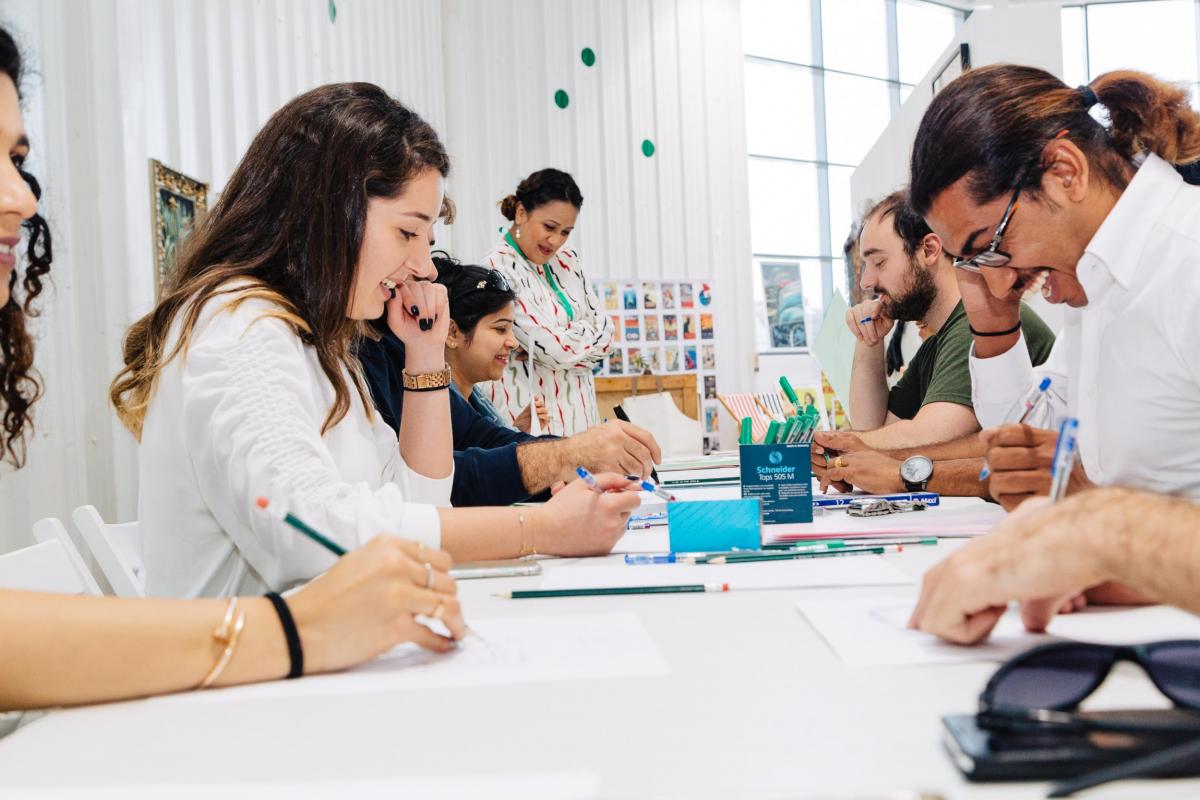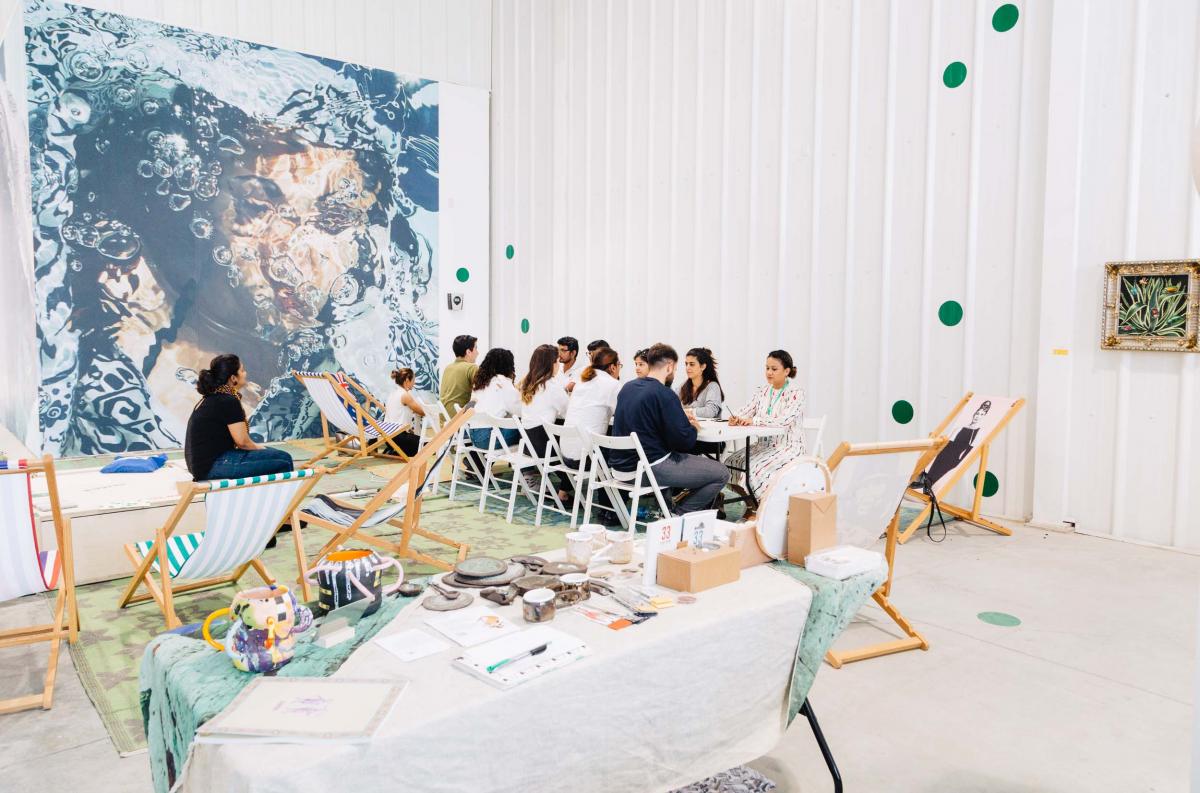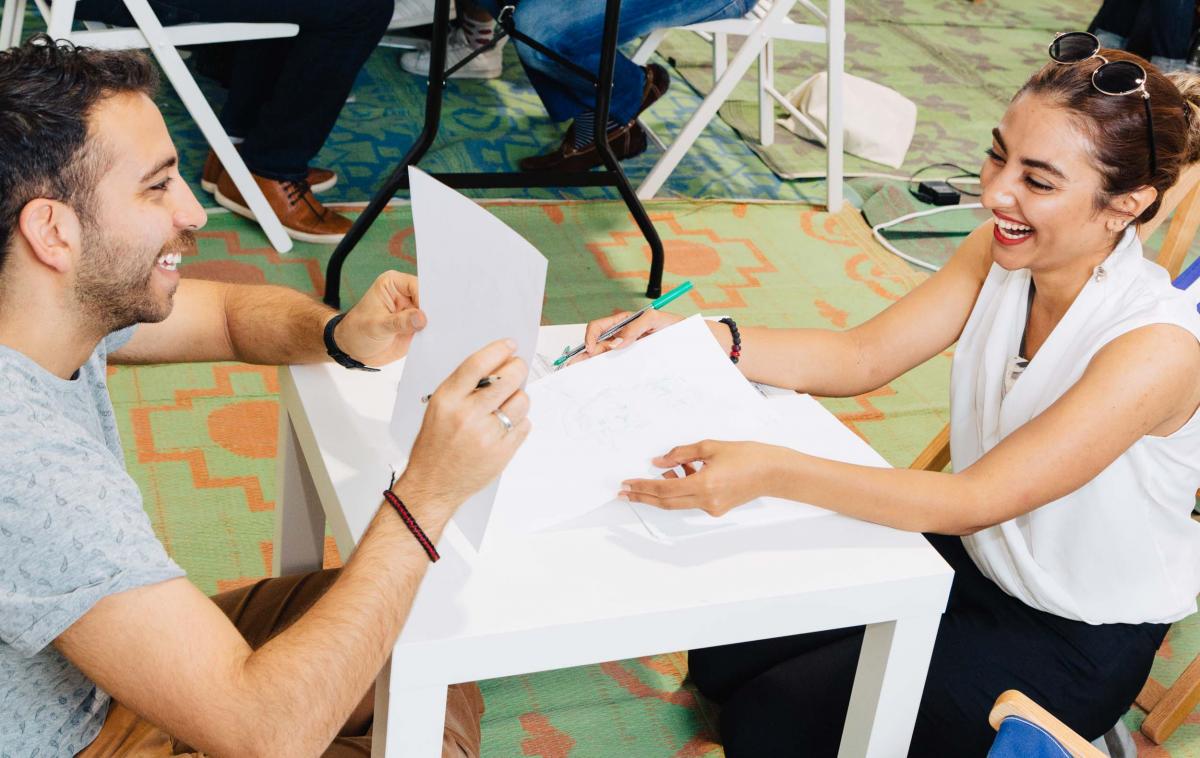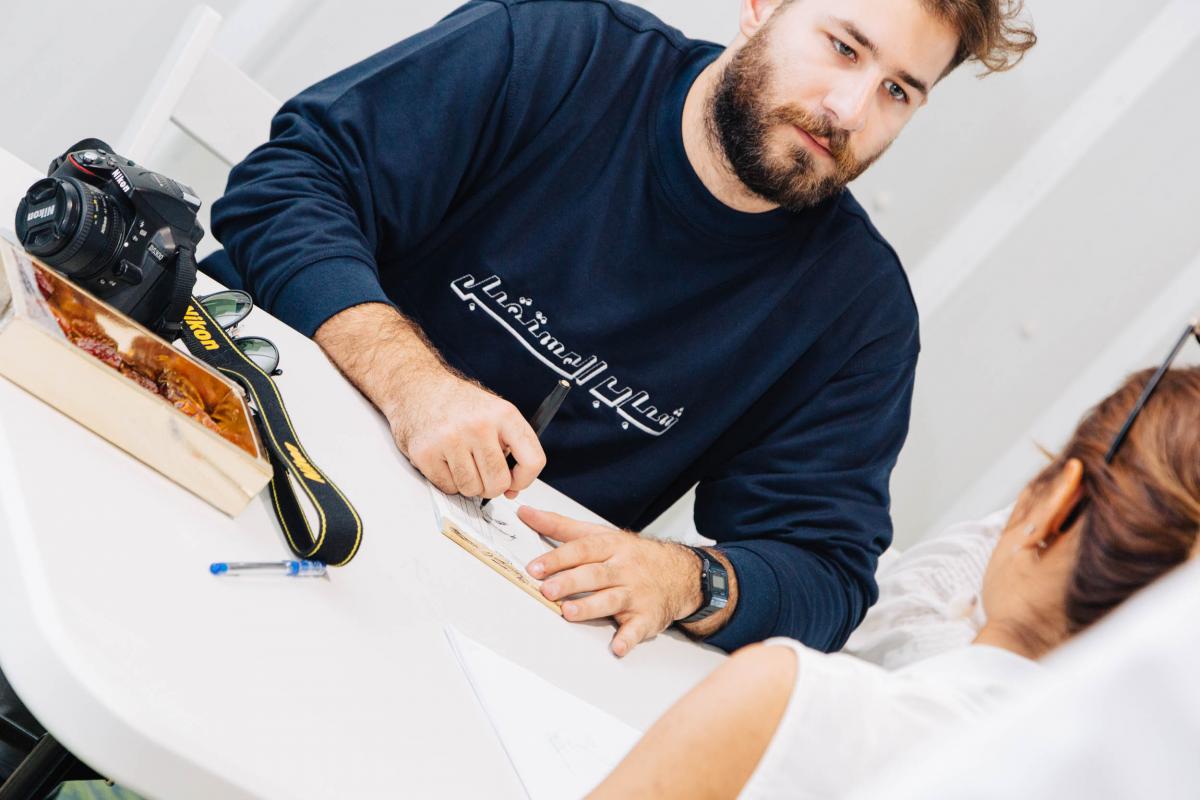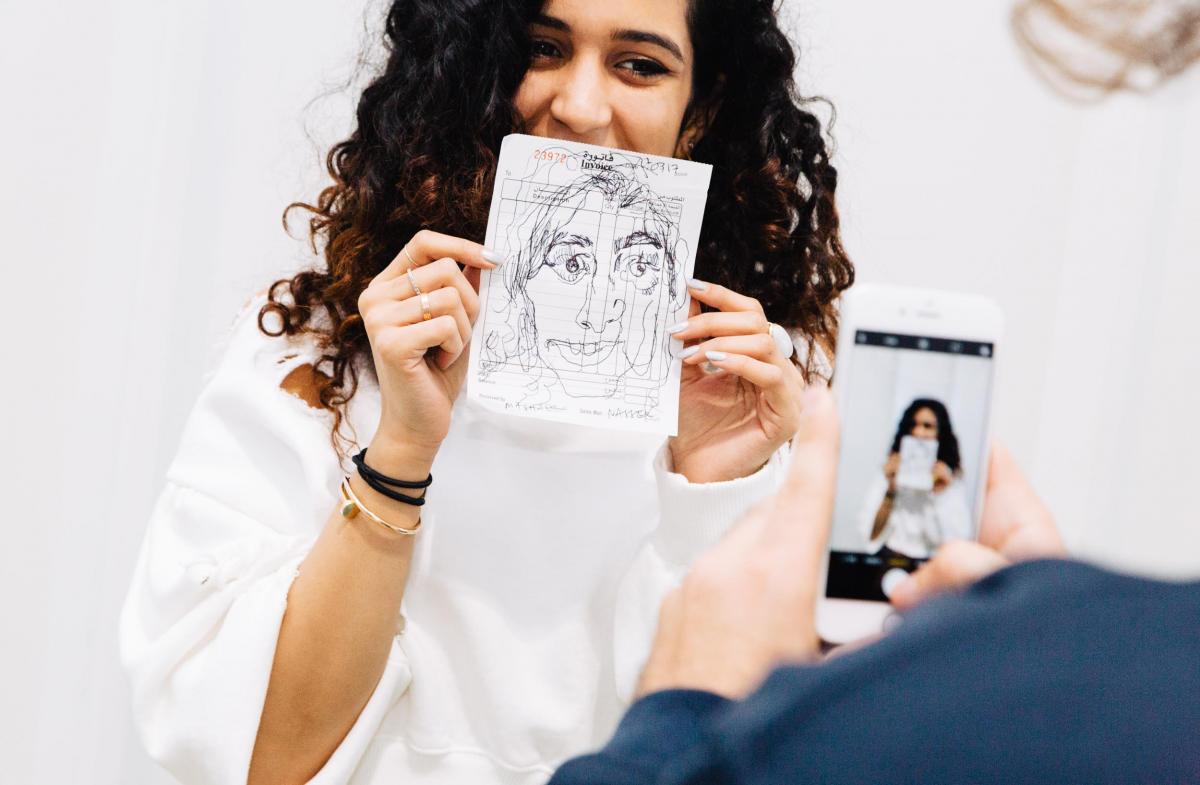 About
What
Featuring 26 vendors and over 60 exhibiting artists, designers, publishers, and film-makers, Fully Booked 2017 was a unique contribution to that most active time for Dubai's art culture. Fully Booked effectively acted as a satellite event to the eleventh edition of the Art Dubai fair and the thirteenth Sharjah Biennial. Fully Booked creates a free, alternative art space for the public to engage with tactile artworks that can be easily collected, sparking dialogue within a diverse group.
Where
Alserkal Avenue is home to interspersed public spaces that bring together collaborators from diverse artistic disciplines, encouraging open dialogue, sharing of ideas, and a collaborative work ethic that can see these creative ideas come to life.
Who— Directors
Anthony Tino is a curator based in New York City. In 2013, Tino co-founded Endless Editions, a publishing imprint which publishes titles with both emerging and established artists. With Endless Editions and independently, Tino has produced performances, exhibitions, and educational programming at the Film Society of Lincoln Center, the Ljubljana Biennial of Graphic Arts, and The Thomas J. Watson Library at the Metropolitan Museum of Art.
Daphne Taranto is an independent curator who has worked with contemporary galleries in New York's Chelsea and Lower East Side. After working with the Peggy Guggenheim Collection in Venice, Taranto worked with Carbon 12 in Dubai and New York during the Art Dubai and NADA art fairs. She was a finalist for a Fulbright Arts Research grant to the UAE following her related thesis research. Taranto focuses on curating and producing multi-format publications, group exhibitions, and live events.
Sara Al Haddad is a Dubai-based artist and is a consultant and collaborator for Fully Booked. As a Fulbright scholar, she earned her MFA in Sculpture from the Maryland Institute College of Art (MICA) in 2016. She has exhibited both nationally and internationally. Al Haddad will represent the UAE in the group exhibition at the 57th Venice Biennale national pavilion in 2017. Additional exhibitions include "Bayn: The in-Between" in Abu Dhabi's Warehouse421 in February, 2017.